Vegas baby...
There I was in Las Vegas. My first time. I was unsure of what to do, of what the rules were or what proper etiquette was. And I didn't want anybody to know how inexperienced I was, especially since Sin City specializes in this type of exciting endeavor.
Finally working up the courage to give it up, I pulled my wallet out and saw I only had $10. Maybe it's better this way.
I approached with the money in hand and asked if $10 was enough. Thankfully, she told me that $10 was the minimum and gave me my choices. I selected what I wanted, what I thought was going to happen based on my knowledge of the subject.
I don't know how long it lasted- 20, maybe 25 minutes. I was on top of the world, my hard work being paid off at this very moment in this crazy city at this ballerific hotel. I was in the special room with everybody else, watching men and women being served drinks and smokes and food while they did what I was doing. They seemed much more at ease, much more at home with this lifestyle. I would have been more uncomfortable if I wasn't feeling the euphoria of conquest.
And then, Vegas turned into the place you hear about from your mature family members and corny vacation guides and old creepy people still shell-shocked by how much money they lost at Atlantic City 16 years ago. The house- the House- started taking over, and I felt powerless to stop it. What would I tell people about this trip? It wasn't about the $10 I'd be losing. It'd be the fact that my game two halftime prediction that the Miami Heat would defeat the Dallas Mavericks by four or more points was about to be eviscerated by one of the most epic comebacks in NBA Finals history. My first ever sports bet in the most appropriate locale to do it in, the infamously inappropriate Las Vegas, Nevada. I saw a 15-point lead and a $10 wager sail away faster than the growth of a new social media site.
I don't regret it though. The contact buzz I obtained around those sports betting junkies (and I don't mean from the Macanudos) was worth it, and I made a good play- Dallas just hit on 16 and grabbed a five.
Just for you Knicks fans: I saw

Patrick Ewing

in Las Vegas, right on the Bellagio floor. He was personable enough, though he wasn't taking pictures at the time. Dude's the tallest person I've ever seen in person close up.
Some points on the Finals: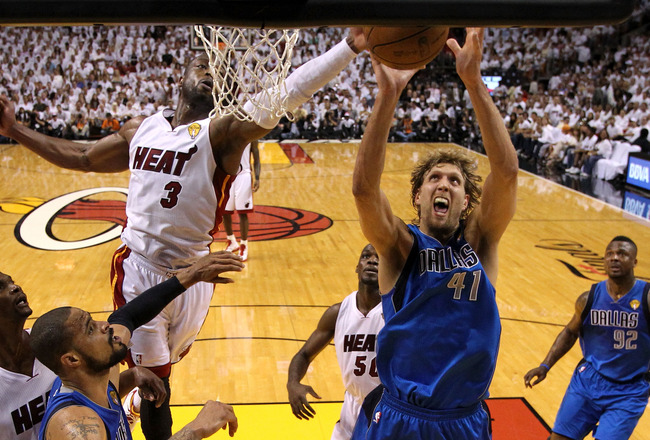 Dwyane Wade has been a two-way menace in the Finals.
Dwyane Wade

is playing magnificent ball right now. I wasn't aware of how much some pre-series rest could do for one's legs, because Wade certainly doesn't look like the same player he was against Chicago.
And neither does

LeBron James

for that matter. I admire the fact that he's deferring to his great teammate, a teammate with a better matchup. He's also facilitating and playing good defense. But he hasn't been aggressive at any point during the last three games. I think now that it's a best-of-three series, he'll look to handle more of the load.
Maybe I'm wrong about LeBron though. Maybe we're wrong to be criticizing him for his play. It's quite possible that the difference between James "deferring and playing smart team ball" and "being scared and toothless in the face of the massive pressure of the Finals stage" is winning and losing.
Dirk Nowitzki

has been superman in both wins and losses. He's a full-fledged offensive Constant now. Well done Dirk, and I hope you are 100 percent for tomorrow's game.
Jason Kidd

is doing whatever it takes to win. His guidance has been instrumental to me, especially when I see him passing the ball to JJ Barea or

Jason Terry

and essentially initiating their pick-n-roll with Dirk while Kidd goes and spreads the floor with his jumper.
For those wondering if I designed the first half of this post intentionally to make it seem like something, err, different, the answer is yes.

Next post, I'll talk about a certain retiree.